Giant Schnauzer Rescue/Adoption Process
We rescue standard and giant schnauzers who need homes.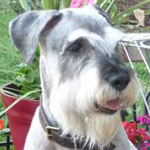 First, an unwanted Giant Schnauzer is surrendered into GSRNW. They undergo any veterinary checks and are evaluated.
A
foster home
is found to meet the needs of the rescue.
Early Adoption Process
Next, the rescued dog is advertised. Interested families are asked to fill out an
Application to Adopt
. Due to the unpredictability of a rescued Giant Schnauzer, families with children under the age of 10, please do not apply to adopt.
A big part of this whole process is educating the people interested in this Giant Schnauzer working breed dog. This is a dog that needs socilization & training, proper care and diet for them. For this, the interested families are invited to a "Meet & Greet" so the people can familiarize themselves with the dog & vice versa. Other family dogs should also be present to see if all are compatible.
Final Adoption!
A Home Visit is made of the family's house & yard to make sure it is a safe environment for the GS.
Last, a decision is made to adopt or not. If so, then an Adoption Agreement is signed & a donation to the rescue organization is made.
For more information about Giant Schnauzers, please
email Mary
.
Zena